Gulf Job: Apply online now for free Azadea group jobs across gulf countries: The AZADEA Group is a premier lifestyle retail company that owns and operates more than 40 leading international franchise concepts in fashion and accessories, food and beverage, home furnishings, sporting goods, multimedia and beauty and cosmetics across the Middle East and Africa spread across 13 countries overseeing more than 600 stores.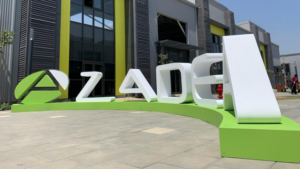 Working at Azadea opens up a broad range of possibilities for candidates from all walks of life, from students and young graduates to retail professionals and experienced managers.
Vacancy Details:
some of vacant positions are
Stock Keeper
Sales Associate
Visual Merchandiser
Shop Manager
Assistant Manager 2
Accounts Payable Manager
Junior Sales Advisor
Runner
Waiter
Qualification Rrequired:
Stock Keeper: High School Degree
Sales Associate: High School Degree, Fluency in English, Proficiency in MS office
Visual Merchandiser:1-2 years of experience in a similar field, Fluency in English, Proficiency in MS Office, High School Degree
Shop Manager: Bachelor's Degree, 3 years of experience in a managerial role; Previous experience in the industry/retail is a major plus, Fluency in English, Proficiency in MS Office
Assistant Manager 2: Bachelor's Degree, Proficiency in MS Office, Fluency in English
Accounts Payable Manager: Bachelor's degree in accounting or finance, Master's degree is a plus, 10 years of related financial/accounting experience out of which 3 in a supervisory role
Junior Sales Advisor: High School Degree, Fluency in English, Proficiency in MS office
Runner: High School Degree, Fluency in English, 1-2 year of experience in a similar role
Waiter:High School Degree, 1-2 years of experience in customer service in a similar role, Fluency in English; Arabic is a plus
Job

Description

:
1.Stock Keeper: 
Classify, store and tag items in the warehouse on a daily basis as per shop procedures and items' characteristics, in order to ensure timely finding and release of products
Participate in the inventory of products and report the end-of-day inventory status to Shop Manager
Receive merchandize, count it physically and electronically in order to ensure accuracy of information and inspect its quality to report discrepancies
Assist Sales Associates in replenishing stocks on the shelves in order to ensure availability of products at all times
2.Sales Associate:
Greet customers, offer assistance and serve them in order to ensure their needs are answered in a timely manner and in compliance with quality and customer service standards
Arrange and replenish on a continuous basis the shop shelves and ensure that the shop floor and shelves are kept clean and tidy at all times in alignment with the brand's image and coordination standards
Provide exceptional customer service by performing up-selling, cross-selling, suggesting alternatives and following up on customers' requests
Specific for Multimedia: Inform Department Manager of unavailable and nonperforming products
Specific for Multimedia: Merchandize products under the appropriate sections according to sales trends, date of release, and as per the Department Manager recommendations
Specific for Multimedia: Up-sell and cross-sell products and services in order to reach hourly and daily sales targets
Ensure smooth and efficient receiving process of items/shipments, as well as accurate stock keeping preventing security risks and thefts by performing physical and electronic inventory as required, reporting broken alarms, incidents, suspicious activities
Handle cash register and transactions with the customers in an effective and accurate manner as required
Specific for Fashion: Take accurate measurements for any needed alteration, ass

ign price according to set price list (when applicable) and coordinate needed alterations
3.Visual Merchandiser:
Key Responsibilities
Perform appropriate display and merchandising to enhance sales and stores' window image and maximize attraction of customers into the stores
Originate display ideas in order to attract a maximum number of customers, promote sales and improve the visibility of slow moving items in coordination with shop managers
Arrange properties, furniture and merchandise according to prearranged plans
Supervise the requisition and construction of decorative materials such as wood, plastic, paper and glass as needed
Maintain and manage window booking schedules as needed
4.Shop Manager:
Greet customers, offer assistance and serve them in order to ensure their needs and complaints are answered in a timely manner with quality and customer service standards creating customer loyalty and portfolio.
Ensure a smooth and efficient receiving process of items/shipments as well as monitor all kind of inventory activities such as cycle counts and stock movements including transfers between shops, transfers to/from warehouse, damaged items, devolution, etc.
Analyze hourly/daily/weekly sales performance, monitor selling items, missing sizes/ items and collection rotation (in coordination with BM and VM) in order to identify replenishment needs, place accurate orders, meet stock performance objectives and maximize sales and sellout
Detect, anticipate and provide regular feedbacks on customers' needs, markets trends and competitors activities affecting the region/ market
Assistant Manager 2: 
Greet customers and assist them in their purchase decisions by offering expert advice in compliance with quality and customer service standards
Communicate sales plans and targets to the Shop/Department team, monitor performance on an on-going basis and suggest corrective actions to hierarchy when needed
Assign routine and non-routine tasks to Sales Associates, Cashiers and Coordinators, in order to ensure that activities are carried out in the most efficient manner
Assist in the preparation of the staff schedule in order to ensure that the Shop/Department manpower is effectively matched to the shop's operational requirements in a cost effective manner
Support the Shop/Department Manager in maintaining inventories and placing product orders to ensure effective stock management and availability of products
Motivate team members and provide them with the necessary support in terms of training and development in order to optimize sales results
Accounts Payable Manager:
Description
Oversee the management of Accounts Payable (AP) within the group and proactively monitor the financial position of the organization to ensure accurate and complete control over invoices and payments, thereby maintaining an up-to-date and precise supplier ledger. Ensure the company has a comprehensive understanding of its financial obligations and capital expenditures on a monthly and annual basis, making adjustments as necessary.
Review invoice approval activities on an as-needed basis (potentially daily), updating and maintaining approval policies and the approval matrix to ensure they align with current requirements. Additionally, oversee the brand's purchase orders and implement effective controls to cover provisioning and mitigate any potential risks or currency exposure that may arise.
Ensure the group's strict compliance with tax regulations, relevant laws impacting the business, International Financial Reporting Standards (IFRS), and internal policies, procedures, and practices. Establish robust controls over cash and bank activities to maintain accurate and reliable financial records.
Supervise payment activities meticulously, ensuring timely and proper control over payments. Develop policies and procedures to effectively manage supplier onboarding, credit rating assessments, credit limits, audit delinquent accounts, and implement provisioning procedures that minimize financial risk, enhance the AP process, and reduce exposure.
Cultivate and sustain a high level of customer service, fostering productive working relationships with stakeholders to drive business improvement and achieve organizational objectives. Collaborate closely with both internal and external auditors during financial and operational audits to facilitate comprehensive reviews and meet compliance requirements.
Maintain strong and collaborative relationships with vendors, suppliers, and service providers, actively resolving any emerging issues and effectively addressing significant discrepancies in partnership with procurement teams.
Recruit, train, motivate, and evaluate the performance of the AP team to ensure a highly skilled workforce capable of maximizing their potential and making significant contributions to the company's success.
Junior Sales Advisor: 
Supports the team in after-sales service with the same spirit as in the sale, following company standards in maintaining customer satisfaction and loyalty in order to promote the brand image.
Greet customers and direct them to the experienced Sales Advisors to ensure that customer satisfaction.
Guarantees the constant tidiness and cleanness of the store, follows-up on orders taken, and deals with complaints, with the support of a manager, if necessary.
Supports in receiving stocks and assist in registering the right records on stocks.
Accompanies the customer to the cash desk and prepares the packaging.
Ensuring customer loyalty by collecting the customer's information and entering it into the database, thus linking it to the sale.
Checking customer requirements while the product is being tried and responding to any further requests, in addition to promoting complementary, additional or differential sales.
Stays up-to-date on all the product range in the store, with in-depth knowledge of all the products in the assigned product range.
Understand KPI's value in order to close the sale in a positive way.
Runner: 
Ensure proper cleanliness and organization of all work areas to facilitate customer service
Greet customers upon their arrival or when just seated and assist them if needed in taking orders to minimize their waiting period
Clean and polish the restaurant's equipment, glassware, crockery, cutlery and chinaware using the defined methods to guarantee proper maintenance
Assist in the induction training of new employees
Participate in the restaurant closing process by checking condiments expiry date prior to cleaning and replenishing the ones on the tables and counting the dirty table linen and placing them in the laundry basket
Waiter:
Present customers upon arrival with the menu, assist in their item selection, , take orders and serve food in a timely manner
Communicate efficiently with the kitchen staff and barista to guarantee customer satisfaction and liaise with other departments to ensure smooth running of operations
Arrange table set-ups before and after each customer according to the brand's set standards
Make sure the staff is providing a friendly, professional and timely service at all times and report immediately any discrepancies/customer complaints to the Manager on duty
Collect bill payments from customers and hand them over to the cashier
How to Apply:
to apply for a specific post please go throgh the official pages through the respective link.