KSRTC SWIFT INVITES APPLICATIONS FOR DRIVER CUM CONDUCTOR POST IN KANDACUR KSRTC SWIFT (a Kerala Government Undertaking) is inviting applications for the post of Driver Cum Conductor on contractual basis for servicing buses owned by SWIFT. Interested and eligible candidates may apply online after reading the official notification form official sites.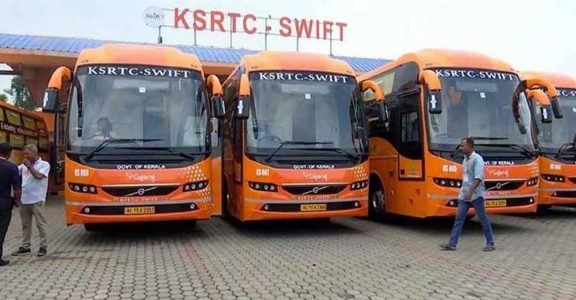 Vacancy Details:
Name of the Organization; KSRTC SWIFT
Name of the post: Driver cum conductor
Number of vacancies: 600
General conditions:
Only those who enter into contract to work as per the terms of service wages prescribed by KSRTC SWIFT will be employed. A security deposit of Rs.30,000 (thirty thousand) is also payable along with the contract. This amount will be retained as a security deposit for as long as Tian is in temporary service. In the event that Tian separates himself or retires from temporary service after attaining the age of 56 years, the amount of T shall be refunded after deducting any loss from Tian.Existing employees of KSRTC who agree to accept the terms of service of KSRTC SWIFT can also apply. Security deposit is not applicable for KSRTC employees.
Qualifications and Work Experience (Compulsory)
Candidate must have obtained Heavy Driving License as per 1st Act, 1988.
If selected, the conductor license must be obtained from the Motor Vehicle Department within the stipulated time.
Must have passed class 10 from a recognized board/institute.
Not less than five (5) years driving experience in heavy passenger vehicles with more than thirty (30) seats.
Age:
24 to 55 years as on last date of submission of application.
Desirable Qualification and Work Experience
Knowledge of vehicle operation and knowledge of troubleshooting minor faults in vehicles is desirable.
Other Conditions
Must have sufficient health and eyesight to work up to 10 hours as per prescribed conditions. Available certificates from Government Doctor and Ophthalmologist not below the rank of Civil Surgeon should be produced.
A conductor should have basic knowledge of addition, subtraction, multiplication and division.
Must have knowledge of reading and writing Malayalam and English.
Salary:
Stipend:Rs.750 Rs for 8 hours + OT + incentives
Selection Process
Applications are scrutinized and shortlisted and shortlisted candidates must fulfill the following requirements:
Applicants must pass the driving test conducted by the Selection Committee constituted in connection with the appointment Appointment is given.
The tenure of the said rank list will be for a period of one year only from the date of coming into existence of the rank list and the employees from KSRTC will be on working arrangement / deputation to KSRTC.
Service must be performed on SWIFT and a separate agreement must be entered into. The terms of agreement in this regard, which may be amended from time to time in accordance with the general interests of the management, are enclosed as annexures.
Employees with five years or more working experience in KSRTC are eligible for preference
How to Apply:
Interested and eligible candidates may apply online throgh the official website.
Last date; 20-09-2023 5pm.
official notification in malayalam